Damask Sage Duvet Cover Set
Damask Sage Duvet Cover Set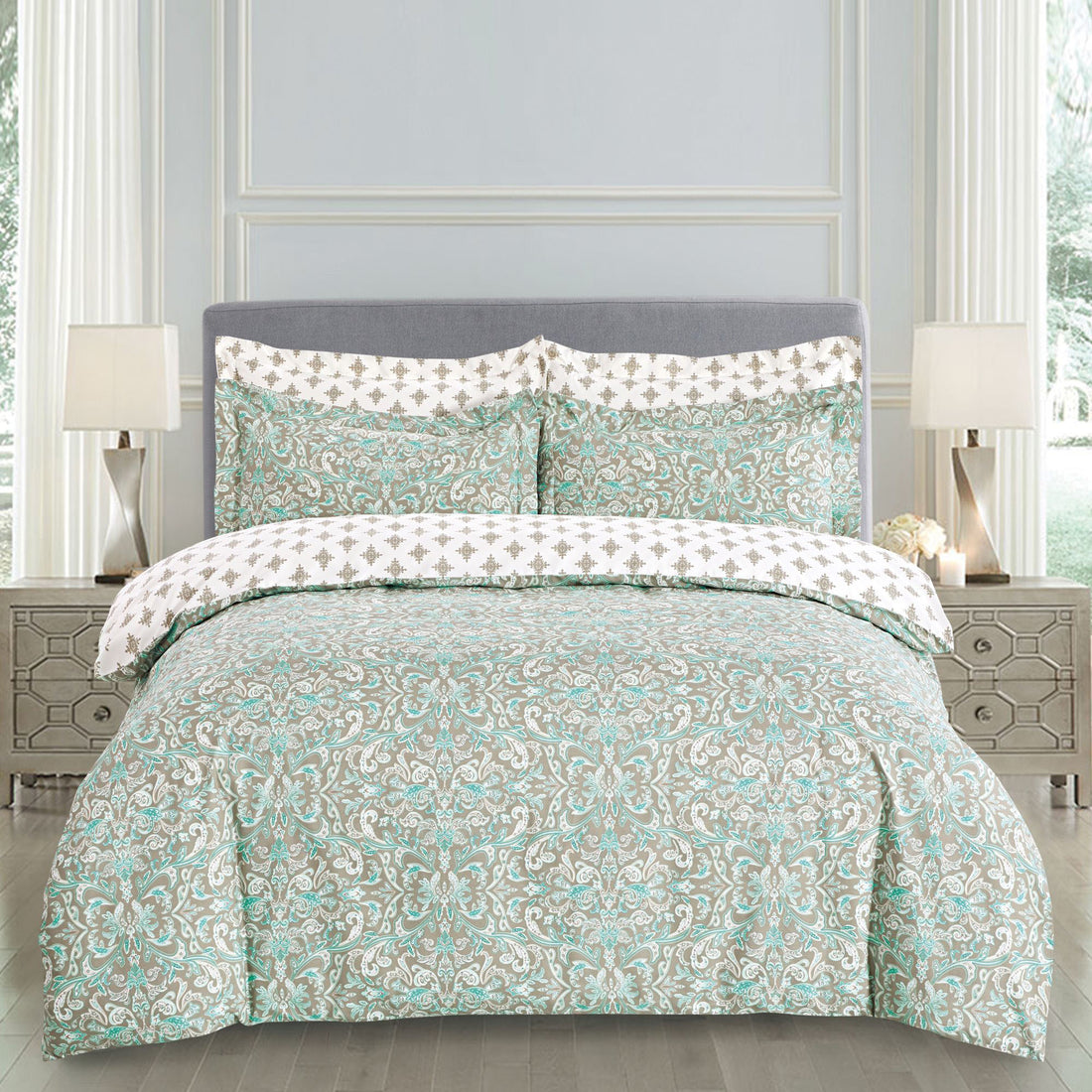 Product Description
This Chanasya microfiber 3-piece duvet cover set is made of a super-soft premium quality double brushed microfiber.
Our variety of prints with reverse design allow you to express your personal style while bringing authentic artistry to your bedroom, and the included matching pillow covers allow you to complete your creative vision.
SET INCLUDES:
KING: 1 Duvet ( 104x90 Inches ), 2 Pillow Shams ( 20x36 Inches )
QUEEN / FULL: 1 Duvet ( 90x90 Inches ), 2 Pillow Shams ( 20x26 Inches )
TWIN: 1 Duvet Cover ( 68x90 Inches ), 1 Pillow Sham ( 20x26 Inches )
FEATURES:
REVERSIBLE DESIGN: Our variety of prints with reverse design feature can suit your personal style and bring a fresh new look to your bedroom. Display the decorative side to give your room a bold look or keep it simple and classy with its reverse solid color design. The included pillow covers also make it easy to mix and match with its unique reversible design feature.


SUPER SOFT & COZY: This duvet cover set is made of a super soft premium quality double brushed microfiber. Add a splash of color to your room with one our many classic colors to mix and match with your personal style. This set also makes a perfect personal gift for any occasion such as housewarming or birthday.


ZIPPER & TIES: 

The hidden zipper enclosure and inside ties of the duvet make it easy to keep a comforter (not included) in place during the night.
Product Attributes
| | |
| --- | --- |
| Part Number | CAN-CD-DAMASK-SAGE-KING |
| Care instructions | Machine wash on GENTLE cycle with COLD water, tumble dry at VERY LOW temperature. |
| Closure type | Zipper |
| Duvet corner ties | Yes |
| Fill material | No Insert Included |
| Gsm | 120 |
| Material | Microfiber |
| Pattern | Print |
| Reversible | Yes |
| Season | All season |
| Warmth level | Light |
| Warranty | Limited Lifetime Warranty |
Beautiful and so soft!
Exceeded my expectations! Honestly I thought for the price it was going to be not good quality or even look like what it does in picture. I was pleasantly shocked at how great the quality and it's absolutely beautiful and sooo soft! Love it! And it arrived quickly. I definitely will order more beautiful things.
The Best Duvet Ever!
I recently purchased the Damask Sage Duvet Set for my new bed. I was very pleased with everything about it. The colors were exactly as shown in the photo, the material was a great quality and the workmanship was superior. The Duvet has a hidden zipper which I've never seen before on a duvet. The BEST part was the workmanship on the pillow shams. No more trying to fold the pillow and stuff it into the opening on the back of the sham. This sham was opened on one end like a pillow case and I just dropped the pillow in it. So easy and not stressful like the shams I'm used to. The way the sham was constructed had a piece of fabric which covered the opening of the sham once the pillow was inside. SO easy to use. Another plus was that there are very few if any wrinkles in the sham. Just give it a few shakes. I would definitely purchase from Chanasya again. It also came in a couple of days.
Close (esc)
Popup
Use this popup to embed a mailing list sign up form. Alternatively use it as a simple call to action with a link to a product or a page.
Age verification
By clicking enter you are verifying that you are old enough to consume alcohol.